Hokkaido Photography Tour Expedition with Blain Harasymiw Photography February 14-25
Hokkaido Photography Tour 2020. If you wish for a copy of any image, please contact me, and I will be happy to send images over to you. Also, I am sorry it took so long to get you this itinerary page of our route and hotel listings. I was on a private contracting assignment mapping the spread. Now my family and I are at our beach home in Niigata, Japan. Even knowing Japan's numbers are low, my family and team are taking every precaution we can to avoid this virus, firstly social distancing, secondly washing and disinfecting store-bought foods before they enter my SUV, and bagging vegetables than at-home washing vegetables with soapy water. And always wearing simple disposable masks when outside and keeping social distancing, but when in hospitals, shopping centers, etc., we wear 3M N95 and KN95 Masks that were provided to me by my contracting work for my family and me. Also, in Japan, hand sanitizers of 70% alcohol are now available; 62 %, I believe, is the minimum to eliminate this virus.
My team and I are thankful for your diligence and your patience in how you dealt with the possibility of interacting with COVID 19 and following our instructions and buying medical masks before your arrival, and for all precautions, you took before we meet in Japan and departing. We were overjoyed; everyone departed Japan safely and did not contract any illness while on our shores. And for your diligence, please know for any future photo tour in Japan, you can expect a minimum of a 10% discount, even with other family members or friends who accompany you.
Namaste, Blain in Japan
Day 1, Mt. Fuji Photo Tour Time.
☞We met at Haneda International Airport.
☞We drove from Haneda Airport to The Sea of Trees, and we visited the Dragon Cave in the forest, due to overcast skies, we were not able to get out planned golden hour sunset photo opportunity.
☞ Our lodgings were in Fuji Yoshida, Hotel Mystery Fuji Onsen Resort
Sorry images out of season, I did not take any this day, as I was concerned for your safety as it was extremely icy.
Day 2 Mr. Fuji sunrise photo op/Lake Suwako in the Valley of the Dragons Japan Photo Tour Day.
☞Before Breakfast we photographed Mt. Fuji at Lake Yamanakako, then returned for breakfast at our hotel and checkout.
☞After Checkout in Mt. Fuji Suwa we drove to Suwako Taisha Shinto Shrine which is the oldest Shrine complex in Japan founded in the 7th century. And is said to be one of Japans most sacred places and a power spot, there are over 3000 Suwa Shinto Shrines across Japan and you were at the main shrine.
☞After Photographing the oldest Shinto shrine complex in the world, we drove to Matsumoto Castle which is one of 5 Samurai Castle's designated a national Treasure Japan. and is an original castle built in 1592.
☞After we photographed Matsumoto Castle we drove to our Lodgings in Shibu Onsen Village, where everyone enjoyed Private Hot Spring and dinner with a toast. Our lodgings were Yorozuya Annex Yurakuan
Day 3, 4. Jigokudani Monkey Park
Our lodgings were Yorozuya Annex Yurakuan Day 2, 3, 4.
Day 5, After breakfast and check out we drove from snow Monkey Territory to Tokyo Haneda Airport, and boarded our flight, to Kussharo Hokkaido. Our Lodgings were La Vista Kushirogawa, which are is one of my favorite hot springs across Japan on the top floor with a beautiful view at sunrise and sunset. The hot springs water has an Ocean Seaweed smell to it. Namaste, Blain
Day 6, We visited the Red-Crowned Cranes, one of the highlights of our Hokkaido photo tour. And we also photographed the Ural owl.
Day 7, After breakfast and checkout at our lodgings, we returned to photograph The Red-Crowned Cranes. We departed for Akanko just after lunchtime, on arrival in Akanko we checked into our lodgings Lake Akan Tsuruga Wing. After checking in, we drove up to Mt. Meakan Hot Spring and photographed ice crystals where we got out our macro lenses. I was hoping the road would be have been open to the summit, but it was closed due to ice conditions. On the evening of the 7th, we attended the fireworks festival, for some reason still not clear to me the Ainu Dance festival was canceled, and when we returned with our co-workers and Martin a week later, it was still not held. The fireworks were cut in half in time from a week earlier.
Day 8, after breakfast and checkout in Akanko, we explored around Lake Kussharoko, where we visited with the Whopper Swans and photographed winter wonderland lakeside imagery. Then we drove to Teshikaga, where we ate lunch at our favorite Ramen shop/Noodle Soup, Restaurant after we left the owner called Manami and I that night who is a family friend and neighbor of ours in Hokkaido, to say sorry he was not in that day and hopes you all enjoyed your lunch. After lunch, we drove up to the Alpine lake Mashuko where we could see the crater of the volcano. Afterward, on our way to our lodgings, we stopped off at a supermarket for water and drinks for everyone. Then we proceeded to our accommodations. Yuyado Daiichi Hotel.

Day 9, The Steller's Sea Eagles we photographed this day by chartered boat, which we boarded in Ruauru. Afterward, we went for hot springs, then lunch. After lunch, we drove further into Shiretoko Peninsula National Park in search of the Ezo Red Fox and other wildlife such as birds, to roads end. Then we drove into Notsuke Peninsula to photograph the Ezo Sika Deer and sunset photo op. Then we proceeded to our accommodations. Yuyado Daiichi Hotel.
Day 10, We were supposed to go out on boats again to photograph the Steller's Sea Eagle, but due to winds, there were no boats on the water this day. On this fateful day, the storm that had kept us from the boats in Rausu was at a 95% chance of blowing out well before sunset. This day we split the group, Martin Veronica and I went to photograph deer, birds, and landscapes. This was one of those days when I should have listened to my inner voice and returned to our lodgings as everything that almost everything from the morning was off, and the wildlife was extremely bashful. But I continued due to our last golden hour was in Mt. Fuji days before, and according to the weather charts, there would be clear skies in Nemuro and no WIND! Our two groups met up in Shibetsu, and we proceeded to Nemuro. Well, well, well, Below is an insert of my article in the Luminous Landscape, May 14th, titled A New Japanese Photographic Landscape – The Covid-19 Effect. And I used Veronica's image of the snowstorm, and I gave her credit for her image by copyrighting her name on the image, thank you, Veronica, for thinking to take a picture and video.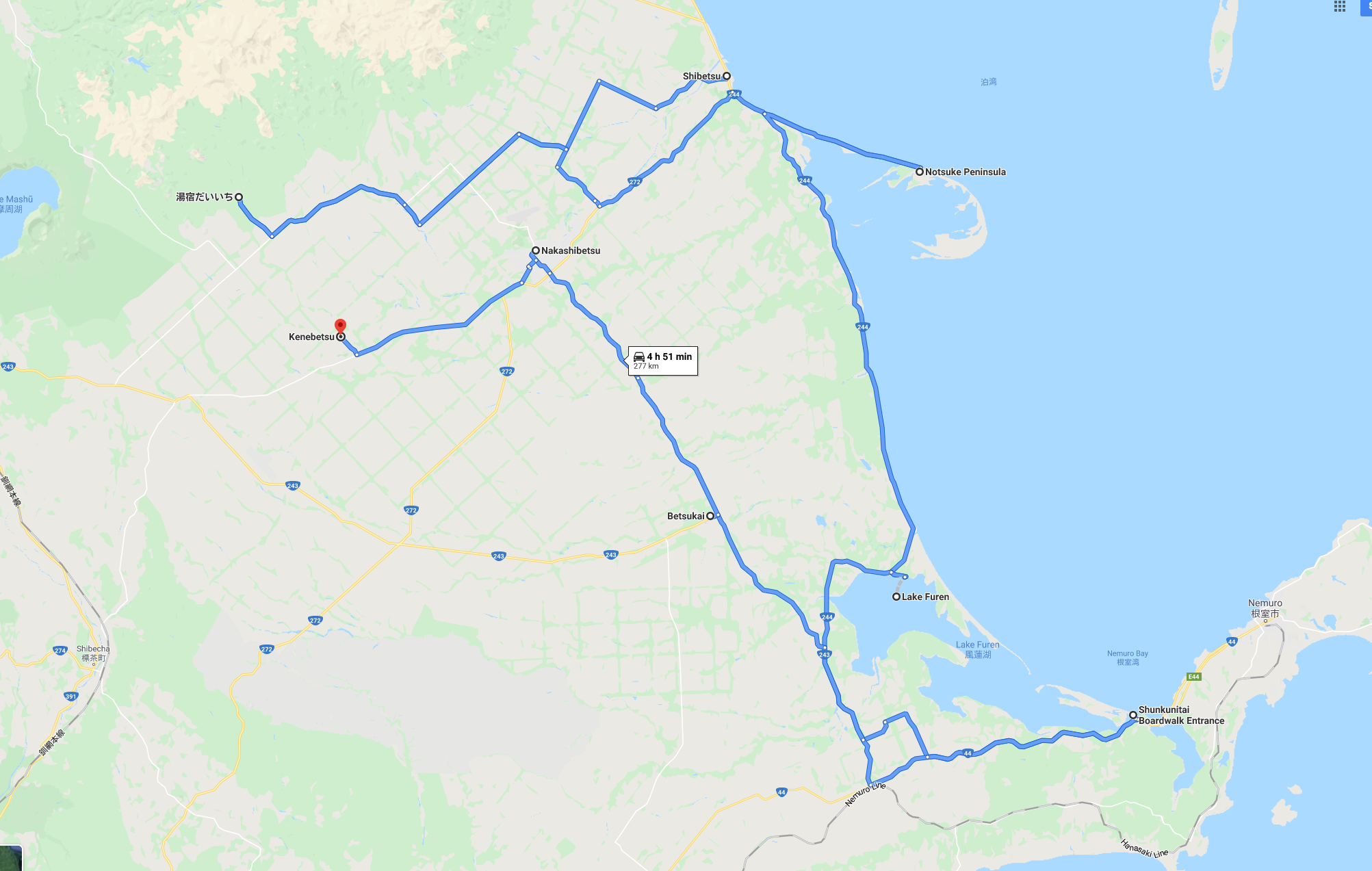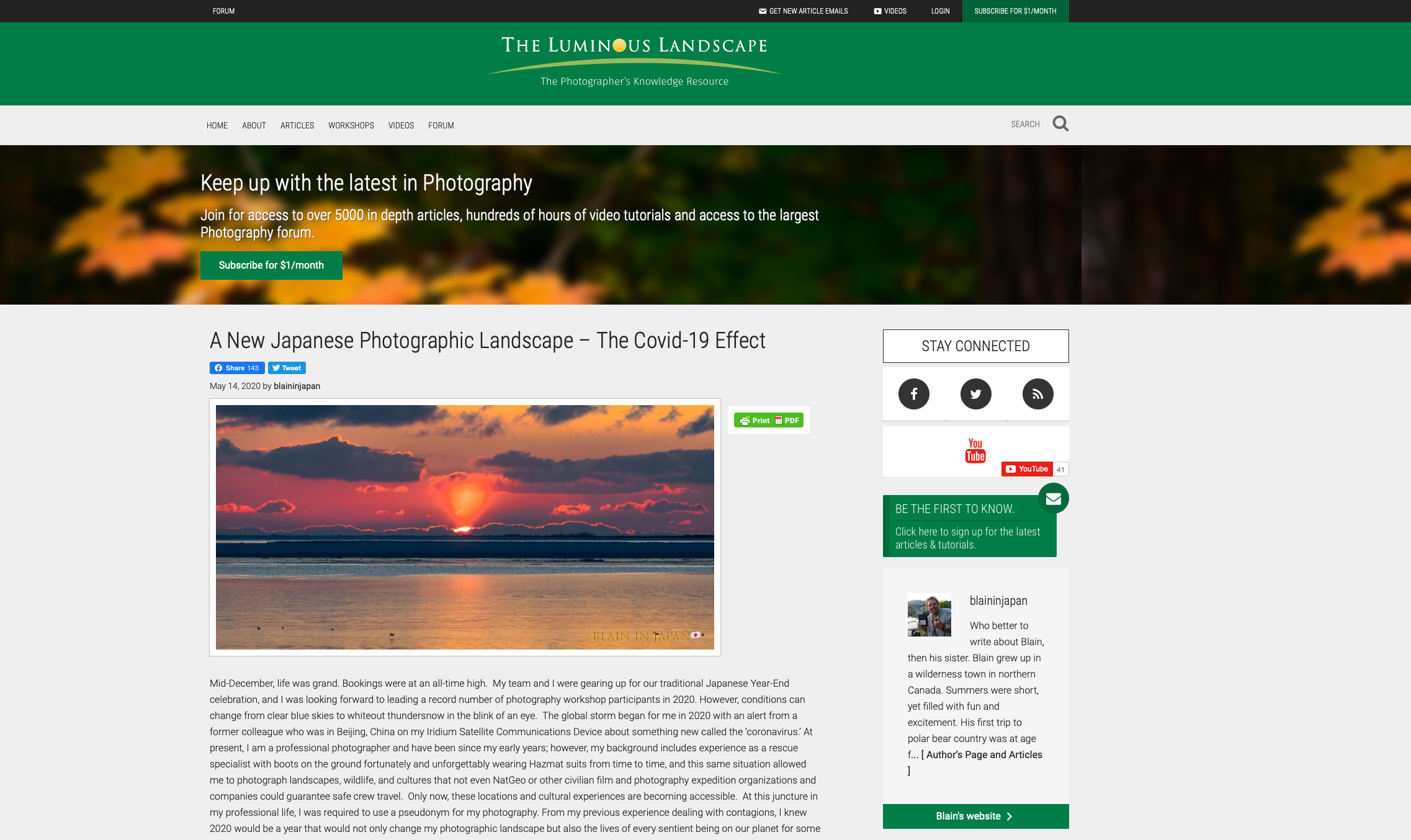 https://luminous-landscape.com/a-new-japanese-photographic-landscape-the-covid-19-effect/

☞Looking back, as a result of our team's careful planning and safety precautions, Hokkaido 2020 went off without a hitch, but there are some forces beyond the control of humankind. 95 times out of 100, a weather system leads to the predicted outcome. It's the 5% that you have to be prepared for. During 2020's Hokkaido Wildlife-Landscape Photography Workshop, I was dutifully consulting the weather charts at 30-minute intervals as I do every day when in mountain regions as weather conditions can change in a breath. As I was closely monitoring weather charts, a blizzard with thundersnow was forming with high winds on a potential collision course for our path, but there was only a 5% chance that the weather system would come our way; a 95% chance it would simply blow out and not affect us. It was 1 pm on day eight of our photo workshop, and the last golden hour sunset photo op was at Lake Yamanakako, Mt. Fuji, Yamanashi, Japan 1,600 km away. This fateful day, I should have listened to my inner voice and that of The Steller's Sea Eagles, Sika Deer, and other raptors, ravens, and wildlife like the red-tailed foxes. They were being bashful and evading our viewfinders due to the bleak and unrelenting weather that was to come. Remember that 5%? I decided to tempt the Fates and go for the sunset photo op, but the Fates are fickle, and sometimes they decide they want their pound of flesh risked in the wager. This was one of those times. After taking some unforgettable golden hour photos, the trip back to the hotel was expected to be just over an hour, and the blizzard a distant memory.
At the halfway point on the return, to jog my memory of my wager, winds began to howl and grow stronger and stronger, peaking between 40-50 m/s or about 160-170 km/h, super typhoon strength winds. These winds created hellish whiteout conditions as the snow was ripped away from the mountain peaks and lashed across the open farmlands onto the road like an arctic cat-of-nine tails, hastily building inescapable snowdrifts. Some of these flash snowdrifts can even reach window height on a normal vehicle, so sedan luxury SUVs and passenger vehicles aren't able to plow through these snowdrifts, and when one tries, they get stuck. This is why I always have at least one hardcore SUV in our motorcade, and I am the driver.
The sun had just set, and I had Martin, a German colleague, riding shotgun who was checking online weather charts. Whenever the motorcade paused, I read the weather charts to anticipate what conditions were coming, and to my relief, the snow was dissipating. Only the stubborn wind remained to create the hellish whiteout conditions. We were also constantly checking topographical maps for forested areas that blocked the wind gusts and provided us a sanctuary giving our eyes and mind a much-needed rest from the perfect wind storm. During this somewhat hair-raising ordeal, we were in contact with everyone in the motorcade, so everyone knew the precise distance to the next forested natural windbreak. When travel resumed, Martin served as a second set of eyes to keep the vehicles on the road. Between infernal gusts, we used the arrows posted above the prefectural highway to inch the lead vehicle forward, a distance of about 18 meters between markers. For 30 seconds to a minute, we were in motion, then whiteouts, and we had no choice when in the open farmland fields but to come to a dead stop for upwards of 5 – 10 minutes.
Mother Nature had a secure grip on us, and she did not want to let us go. On some occasions, even though the arrows are posted a few meters above the road, they weren't visible nor the flashing lights above them. All of a sudden, I saw headlights and hazard lights from multiple vehicles heading in our direction. I was becoming cautiously optimistic because we were more than halfway back to our lodgings, and there were enough forested areas to give us protection. Boom! Car height snowdrifts. Boom! Nobody could see the road. All the traffic was at a dead stop, and I knew exactly where the road had taken us. Images of the family who perished in the exact spot in 2013 ran through my mind and chilled my blood, but I cowboyed up and focused on what needed to be done to assure everyone's safety. As all this was happening, I made a command decision. It was time to bring all the participants into my SUV that was not stuck and could plow through the snowdrifts and leave all the camera equipment in the less agile luxury SUVs. Once the storm broke, I knew we would be able to return to the SUVs and claim all the camera gear and the vehicles, but safety dictated a slow and methodical return to a hotel or shelter. I was confronted with a choice, either push forward into the unknown toward our mountain lodgings or make a u-turn to the closest village 10 kilometers behind us.
Seconds before I was about to start the process of safely transferring everyone to my SUV – BOOM! – I heard something like a shovel scraping the road, and I then I saw a huge tractor shoveling and clearing the road; the shovel car cleared the snow so expertly it was just inches away from the front of my SUV. I thought they were going to smash my windshield. "Wow! What precision," I thought. As the roads were being cleared, other emergency workers were pulling vehicles out of the snowdrifts and other vehicles that were stuck, which meant all our vehicles would be able to reach a shelter for the evening. My co-leader and I asked the emergency road rescue workers if we could proceed to our mountain lodgings about 8 kilometers away. The response was an emphatic, "No. The roads were unknown and 99.9% impassable." Their counsel jogged my memory of spending 3 – 4 days in my country home in this area sequestered to my home hot springs due to the heavy snowfall and blizzards. The weather could be so severe that for days at a time, there was no power. Because of how often the region has extreme weather, most locals have a back-up generator and thermal hot springs as part of their home. Overnight the snow could pile up to waist height, so my SUV was out of the question as was any vehicle with rubber tires. Even a tractor would have to shovel itself out. Our guardian angels told everyone to follow them and started guiding all vehicles to the nearest village. As soon as we reached the village, everyone went their separate ways, and I remarked to myself about the lack of markings on what I thought were government snow-clearing rescue vehicles. I even recalled seeing 'rental' written in Japanese on one of the tractors. Despite being told the roads were impassable, I felt that a return to our original lodgings was still possible using a different route, so I topped up the gasoline for each vehicle in our motorcade at the nearest gasoline stand which was on the verge of closing. The elderly gentleman in charge of the station opened the doors so my co-leader, Martin, and I could come in, rest, and enjoy a warm cup of Japanese green tea. While fueling up, my co-leader and I called highway services, but there was no answer, and the police also said not to return, so we checked online and all the roads we highlighted in red, which meant impassable.
In spite of me being a local, everyone's advice, including the elderly gentleman at the gasoline stand, was to not return to the lodgings because this was a once in a decade windstorm. Of all the counsel I received, I took the elderly gentleman's the most serious because he was born and raised in the area and his insights were born from experiencing prior windstorms. I knew my SUV would make it, but the others would not. My co-leader could see my mind was racing, and she needed to ground me in this world. Her next statement did just that, a godsend. While on the way to the village, she had called our lodgings and miraculously arranged rooms for everyone in the village we had just arrived in. A sister business hotel to our 4-star accommodations had made room for everyone, so rather than an emergency shelter or sleeping in the vehicles, everyone had a single private room with shower and bath, and hot springs on the 1st floor. After settling in and a small hot meal, I called a friend in Japan's main emergency disaster relief agency, as I knew they should have a log of our rescue and all rescues across Japan. To our surprise, there was no log entry of our rescue or road clearing, just a warning that the highways in that area were completely shutdown. After a few seconds of silence, we came to the same conclusion and shouted, "local volunteer rescuers!" My colleague and I then discussed the number of fatalities in Hokkaido associated with severe winter conditions similar to the flash blizzard that caught us.
The conversation turned to the local farmers and residents in communities across Hokkaido, who of their initiative, had started something akin to a community watch program where cameras are placed in high-risk areas where people have perished, and there is always someone monitoring during winter or when there is a weather warning. The community always rent rescue snow-clearing equipment in case the need arises to make sure there is no repeat of prior tragedies. To reward their heroism and express my thanks, I made a donation, a year's worth of gasoline. After hanging up, I made my one final check to make sure everyone was settled in their rooms with provisions, and then I fell asleep before my head hit the pillow. In the am, I woke before sunrise to enjoy the hot springs, then, later on, we all enjoyed a hot breakfast. We called local road services, and they informed us that the roads to our mountain lodgings would not be cleared until about 8 am.
When the time was right, our group returned to our original lodgings. After freshening up, we started the day early with a fresh blanket of beautiful winter wonderland snow, and everyone was well-rested in mind, body, and spirit. We concentrated on artful zen-inspired minimalist photography with an emphasis on groves or singular winter trees. The hostility of the storm faded and provided us a winter frame to capture photos constructed with zen-inspired simplicity and calm.



Day 11, HAPPY BIRTHDAY, Veronica. After breakfast at our temporary emergency lodgings in Nakashibetsu, we returned to our lodgings and freshened up and continued our day photographing winter wonderland landscapes, and minimalistic landscapes, and we stayed close to our lodgings this day, and this was the only time that we had returned to our lodgings a few minutes before sunset during our entire Japan photography workshop tour. Every other day we returned to our lodgings well after sunset.
Day 12, Veronica, Martin, and I departed our lodgings an hour before sunrise. We made our way to the pacific coastline and I know the perfect place on this shoreline actually, at friends residence, its the perfect spot for a Pacific Coastline Hokkaido sunrise photography opportunity. And this morning was an extremely rare sunrise opportunity that occurs only once or twice a year, due to cloud cover and horizon the sunrises in the shape of a heart, in my over 20 years photographing sunrises at this spot I have only seen a heart-shaped sunrise twice before. Locals believe this was a sign from the Ainu Kami, the spirit guides of the first nation's people of Japan and the Medicine Buddha smiling upon us. After sunrise, I bid my friend farewell till the next week, and we returned to our inland lodgings for hot springs and after a leisurely breakfast and I took about an hour photographing the Shima Enaga, and other birds and wildlife. After checkout we drove to Kussharo Airport ate lunch, and said our goodbyes, till next time. From the heart my team and I hope you enjoyed your Hokkaido Photo tour workshop in Japan. Thank you, Namaste, Blain, Manami and Gaku.